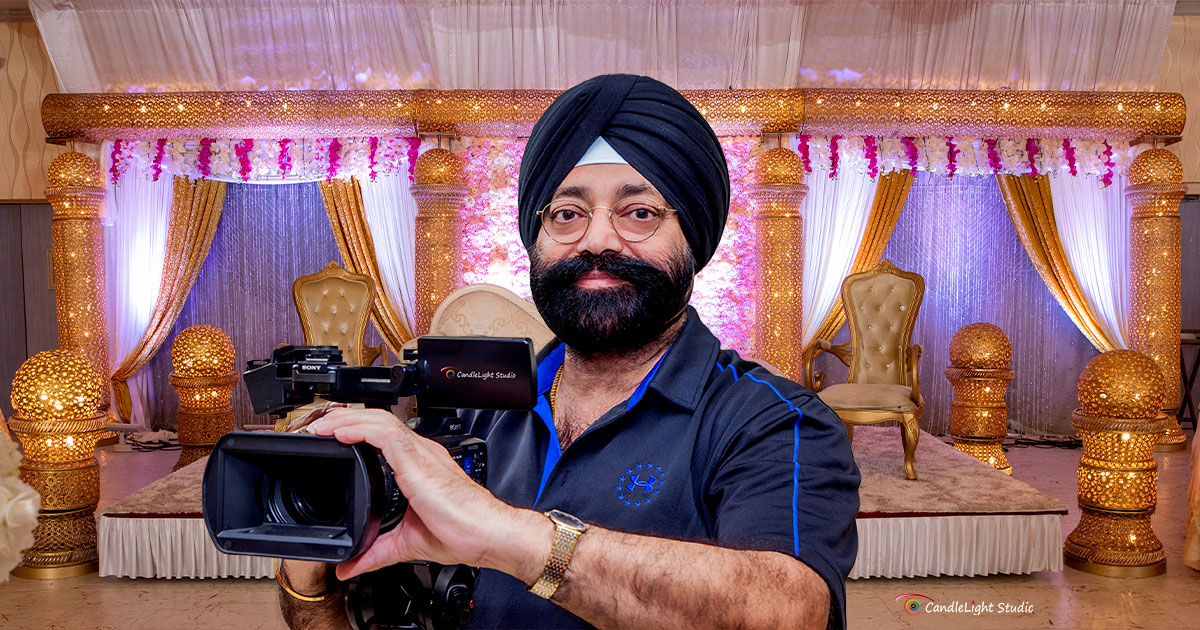 Photographer Surinder Singh, an Expert in Wedding Photography
Welcome to Surinder Singh's world of eternal love and breathtaking moments. As a leading Indian Wedding Photographer at CandleLight Studio, Surinder's lens captures the essence of your special day, preserving it for eternity. With a unique blend of creativity and expertise, he weaves unforgettable wedding narratives, embracing diverse cultures and celebrating love in all glory. Cherish your memories with Surinder Singh and embark on a journey of everlasting love. Reach out to us and let your love story unfold through Surinder's lens. Book now, and let us create your timeless tale of romance.
Surinder Singh – Creating Timeless Wedding Memories with a Passionate Lens
Your wedding day is a tapestry of emotions, and Surinder Singh, an exceptional Indian Wedding Photographer, is here to capture every thread of love. At CandleLight Studio, we believe in preserving the magic of your special day with passion and artistry. Surinder's keen eye and creative approach beautifully narrate your love story, weaving memories that last a lifetime. Trust in the expertise of Surinder Singh and our team to craft timeless wedding memories that you'll cherish forever. Embrace the magic of eternal love through Surinder's lens. Contact us now and let your love story unfold.
Surinder Singh: Capturing Timeless Moments as a Leading Indian Wedding Photographer
Surinder Singh, a masterful Indian Wedding Photographer, is a true artist behind the lens. Based in New York at CandleLight Studio, his exemplary wedding photography and videography journey spans over two decades, capturing the essence of diverse ceremonies from South Asian to modern Western and LGBTQ weddings. His prowess in encapsulating each wedding story's emotion, love, and cultural richness is remarkable, positioning him as a cherished name in the field.
Education & Industry Associations
Qualification:
Surinder holds a Bachelor's in Fine Arts and Photography from St. John's University, New York City. His academic background has fostered his technical proficiency and artistic sensitivity.
Professional Associations:
Surinder is an active member of notable industry associations, including the American Wedding Group (AWG) and the Professional Photographers of America (PPA). Regular participation in these platforms enables him to stay informed about evolving trends and techniques in wedding photography.
Professional Experience & Collaborations
Collaborative Ventures:
Over the years, Surinder has worked with reputed photography companies, including David's Bridal, The Pros, Wedding Bug, and Bella Pictures. These experiences have given him rich insights into various wedding styles and customer preferences.
Publications:
His exceptional work as an Indian Photographer has been featured in premier wedding magazines and platforms like The Knot, WeddingWire, Maharani Weddings, and South Asian Brides. His publications reflect his creativity and skill in capturing unforgettable wedding moments.
Coverage:
With an impressive record of over 1600 weddings across diverse religions and backgrounds, Surinder's portfolio showcases his versatility and commitment. His work spans Long Island, New York, Brooklyn, Queens, NY, and New Jersey, and he has received numerous accolades from happy couples.
Specialties & Offerings
Expertise:
Surinder's specialty lies in his ability to beautifully photograph and film South Asian Weddings, Modern Western Weddings, and LGBTQ weddings. His profound understanding of these diverse cultures ensures each photograph narrates a unique story, making him a favored Indian Wedding Photographer.
Portfolio:
His extensive portfolio encompasses various wedding ceremonies, including Indian, Punjabi, Muslim, Sikh, Guyanese, Pakistani, and Bangladeshi weddings. His lens has captured countless weddings across the five boroughs of New York City, Long Island, NY, New Jersey, and Houston, Texas.
Packages:
Understanding the varying budgetary needs of clients, CandleLight Studio offers several affordable wedding photography and videography packages. They include specialized services like flush mount photo books, drone coverage, live streaming, and cinematic video highlights, complete with dynamic titles, special effects, and matching songs. These offerings are conveniently delivered online and on a USB Drive.
Connectivity & Reach
For consultations and bookings, Surinder is easily accessible through phone, text, email, WhatsApp, and SMS. His passion for capturing joyous wedding moments is visible in the portfolio at CandleLight Studio located at 909 3rd Ave., New York, NY 10150. To explore his work, visit https://candlelightstudio.com/
Surinder Singh is an engaging storyteller through his camera who stands out as a premier Indian Wedding Photographer in the industry. His distinctive style, a blend of traditional and contemporary techniques, weaves timeless narratives, transforming wedding moments into an eternal celebration of love and cherished memories.
FAQs – Wedding Photography with Surinder Singh
How do I choose the wedding photographer for my special day?
Choosing the right wedding photographer is crucial to capturing the magic of your special day. Here are some essential factors to consider:
Portfolio: Review the photographer's portfolio to ensure their style resonates with your vision.
Experience: Look for photographers with ample experience capturing weddings across diverse cultures and traditions.
Reviews: Check for client reviews and testimonials to gauge the quality of their service.
Personal Connection: Feeling comfortable and connected with your photographer is essential, as this rapport will reflect in the final images.
Packages: Explore the wedding photography packages offered to find the one that suits your budget and requirements.
Can I customize my wedding photography package?
Absolutely! At CandleLight Studio, we understand that every wedding is unique and offer the flexibility to customize packages to meet your needs. Whether you want additional coverage hours, special add-ons, or tailor-made services, our team can accommodate your preferences.
How far in advance should I book my wedding photographer?
Booking your wedding photographer in advance is essential to secure your preferred date and ensure you have ample time for consultations and planning. We recommend contacting us at least six to twelve months before your wedding day to guarantee our availability. However, if your wedding is approaching soon, don't hesitate to contact us, and we'll do our best to accommodate your needs.
Book Your Magical Moments Now
Surinder Singh, an acclaimed Indian Wedding Photographer, brings a touch of magic to every wedding he captures. With a wealth of experience and a deep understanding of diverse cultures, his lens weaves unforgettable narratives that celebrate love and cherished moments. Through an engaging portfolio and an array of flexible wedding photography packages, CandleLight Studio promises an exceptional experience that will stand the test of time.
Discover CandleLight Studio's wedding photography services, passionately tailored to immortalize your special day. Step in and let us transform your fleeting moments into enduring memories today.
Book your extraordinary wedding photography experience now. Contact Surinder Singh at CandleLight Studio, and let his artistry preserve the beauty of your love story forever.